I last left the house was on 26th November last year. Actually, November was a remarkable month because I went out twice. Both for medical appointments; the effort of which exacerbated my symptoms owing to my systemic inability to tolerate exertion. This core feature of my illness has been recognised in bold neon headlights by the Institute of Medicine in the USA. Indeed, it has recommended that the universally derided term Chronic Fatigue Syndrome be re-named Systemic Exertion Intolerance Disease. The debate is raging currently both about the proposed name and diagnostic criteria:
My gut reaction was to welcome the criteria as they fit most closely with my particular experience (especially orthostatic intolerance) but I recognise that naming a disease after its symptoms is problematic. Only time will tell where this will go but there are some promising signs that the seriousness and degree of devastation of this illness are being recognised.
Although I can't do very much without suffering the consequences, I make it my mission to purposely enjoy what I do have and can do. I'd like to share a few of the things that brighten my days. Firstly, I'm blessed indeed with having an ever-changing spectacular view from my bedroom window. Here are a few snaps I've taken recently: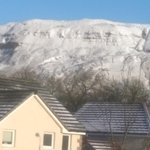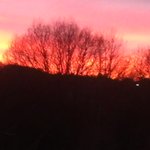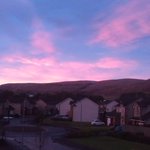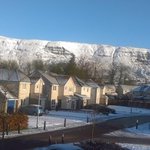 Another joy in my life is reading. My condition has to be at its most severe before I am unable to read or comprehend. I spread my reading among social media, books and articles on health or for sheer enjoyment and, occasionally, to broaden my knowledge and horizons. Among the books I've read lately:
The Medicinal Chef Healthy Every Day by Dale Pinnock
As the title suggests this is all about eating good, unprocessed, healthy food every day. I love it! I can't do a lot with it though as it involves standing to prepare and cook. I have managed a couple of recipes though: chicken curry, seafood one pot (although I did eschew the squid in favour of more prawns) and a mackerel salad. Quinoa features quite a bit. Tried it; prefer rice.
Eating well so as not to stress our bodies with processed food is a good thing to do. This book has some excellent recipes to try. I just wish it came with a personal chef 🙂
Silent Pain: How Stress and Trauma may lead to Chronic Fatigue Syndrome by Helen Germanos
This is Helen's story of her illness, soul-searching, investigation, therapies and recovery. I was attracted to reading it because it is based on Polyvagal Theory, about which I wrote a post last year. It is a hugely interesting book and Helen's three-tiered approach to recovery has given me much food for thought. I consider it a most valuable addition to my store of resources about holistic medicine. I also want to thank Helen who has been hugely kind and generous in answering my questions, sharing her knowledge and wisdom, and directing me to sources of help.
The Last King of Lydia and The King and the Slave by Tim Leach
I love historical fiction. I read Wolf Hall and Bring up the Bodies recently, Hilary Mantell's award-winning books about Thomas Cromwell. To be honest I found both very ponderous and tough going in places. She was rather harsh on Thomas More too which I didn't altogether appreciate! It was therefore a delight to encounter these two books which follow the fortunes of King Croesus from king of unimaginable wealth to slave. Exquisitely written and a joy to read. The standout man of the books for me is Isocrates, a fellow slave, who gets all the best lines and wisdom.
The Girl on the Pier by Paul Tomkins
I didn't know who Paul was or anything about him until I read an article tweeted by the ME Association which, very probably, is the best article I will ever read about ME. I then learned that he was a football writer and had penned a novel. So I decided to give it a go, having no real knowledge of what it was about but expecting it to be well written. Oh boy! It knocks your eyes out and takes a good rummage round your psyche, poking sharp elbows in tender spots. It defies categorisation somehow, possibly psychological mystery comes somewhere near. That Paul managed to write a book of this quality while trapped in the ME divers' suit is remarkable. A fantastic read!
Speaking of football, my last homage to stuff that cheers me is the current fortunes of my beloved Celtic. I'm thrilled that we have signed the cream of Scottish talent in Gary Mackay-Stevens and Stuart Armstrong, both of whom scored (the former within 38 seconds) in the debut game against Partick Thistle the other night. Add to that a hot young Irish talent in the form of Michael Duffy and we've had the best transfer window in recent memory. Signing Michael also brought us a new American fan in the shape of Fr Michael Duffy who had never heard of Celtic until he got loads of tweets welcoming him to the club. He knows the history now alright 🙂
I might not be able to attend games now but my passion is undiminished. Presently, we remain in the league (first place naturally) and 3 cup competitions including the Europa. Next week sees us take on Inter Milan in a full house at Celtic Park. The last time I managed to attend and enjoy a Euro tie was against Barcelona on 7th November 2012. We won and the night defies description. It was electric, raucous and magical. I'll finish this post about some of the joys of my life with a picture of the pre-match display from which I still have my bit of green plastic: